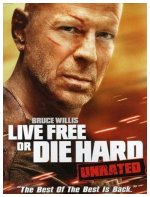 Live Free or Die Hard
2007










John McClane (Bruce Willis) is back and badder than ever, and this time he's working for Homeland Security. He calls on the services of a young hacker (Justin Long) in his bid to stop a ring of Internet terrorists intent on taking control of America's computer infrastructure. Fear not, the information-age plot still boasts plenty of good old-fashioned gunfights, smash-ups and explosions. Note: The Blu-Ray version of this film is rated PG-13.

Action, Adventure, Thriller

11










I enjoyed this movie, lots of action and classic acting by Bruce Willis. A couple parts seemed a little far fetched, but still a cool movie.