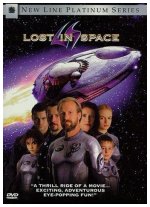 In director Stephen Hopkins's reboot of the 1960s sci-fi series, the prospects for continuing life on Earth in the year 2058 are grim. So the Robinsons are launched into space to colonize Alpha Prime, the only other inhabitable planet in the galaxy. But when a stowaway sabotages the mission, the Robinsons find themselves hurtling through uncharted space. William Hurt, Mimi Rogers and Heather Graham star in this effects-filled adventure.
Action, Adventure, Fantasy, Sci-Fi
27










A well-known cast with a quirky story line and a campy vibe. The CGI is completely dated now, but it doesn't effect the film much. It felt more similar to
Spy Kids
than legitimate adult sci-fi.