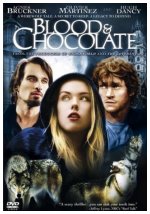 Teenage werewolf Vivian (Agnes Bruckner) has spent her entire life trying to hide her secret. But when she falls for a human (Hugh Dancy) and ignores the werewolf (Olivier Martinez) who desires her, she finds she must choose between love and family. Based on a novel by Annette Curtis Klause, the screenplay for this female version of I Was a Teenage Werewolf was written by Christopher Landon, whose father, Michael Landon, starred in the 1957 film.
Drama, Romance, Supernatural
27










A film revolving around unconventional werewolves. Completely different from the book -
Blood and chocolate
- but still an excellent movie.