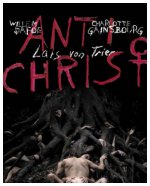 After their child dies, a therapist (Willem Dafoe) and his wife (Charlotte Gainsbourg) flee to their cabin in the woods, where they hope to mend their emotional wounds. But the grief-stricken couple watches their troubles multiply when very strange things begin to happen. Acclaimed Danish auteur Lars von Trier divides this tale into multiple narratives, revealing a surreal, horrific psychological adventure about the evils of nature, humanity and desire.
Horror, Indie, Supernatural, Thriller
27










A bland drama with gratuitous nudity and a self-loathing main character.