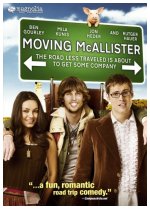 Four days before the bar exam, ambitious legal intern Rick Robinson (Ben Gourley) makes a promise to his boss, McAllister (Rutger Hauer), and finds himself on a cross-country road trip from hell with McAllister's niece (Mila Kunis) and her pet pig in this comedy. En route from Miami to L.A., Robinson is set off course by hitchhikers, breakdowns and even love on a journey that proves that there's more to life than making it to the exam on time.
Comedy, Indie, Romance
27










A quirky road trip comedy following an uptight legal intern and his boss's wild niece. Jon Heder of
Napoleon Dynamite
fame was unexpectedly great as a slightly-goofy hitch-hiker, and the rest of the cast was pretty good as well.