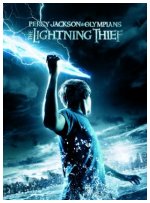 Percy Jackson & the Olympians: The Lightning Thief
2010










After he discovers that he's the son of the Greek god Poseidon (Kevin McKidd), 12-year-old Percy Jackson (Logan Lerman) strikes out on an action-packed adventure to rescue his mortal mother and negotiate a peace treaty between his father, Zeus (Sean Bean), and Hades (Steve Coogan). Chris Columbus (Harry Potter and the Chamber of Secrets) directs this fun family tale that also stars Pierce Brosnan, Rosario Dawson and Uma Thurman.
Adventure, Book, Children, Fantasy, Sci-Fi

10










I have not read the book, though people say it's superior. The Lighting Thief has plenty of thrills, humor and didn't disappoint, even if I had low hopes for it. The cast was also excellent.
27










The cast was excellent except for Alexandra Daddario and Uma Thurman, and the movie itself was far better than I expected - a fun teen retelling of Greek mythology. The soundtrack was pretty good as well.