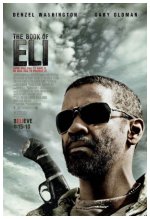 Determined to salvage a sacred text in order to protect humanity, Eli (Denzel Washington) goes on a quest across the country in this action-packed sci-fi adventure. Meanwhile, a blind woman named Claudia (Jennifer Beals) tries to protect her daughter, Solara (Mila Kunis). It seems that tyrannical town bully Carnegie (Gary Oldman) has taken a shine to the girl. Directed by the Hughes brothers, the film co-stars Ray Stevenson.
Action, Adventure, Fantasy, Sci-Fi, Thriller

10










One of the more enjoyable apocalypse movies, focusing a lot on religion and still containing some humor.

12










I saw this movie this past weekend! Well i was surprised by it, the ending shocked me a little but id definatly say this is a very good movie and id watch it again without complaint.
27










Denzel Washington was excellent as usual, and Mila Kunis brought a little humor and humanity to an otherwise heavy post-apocalyptic story.