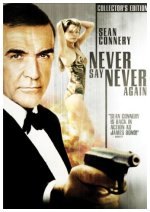 Never Say Never Again
1983










When two atomic warheads are hijacked by the evil SPECTRE organization, British superagent James Bond (Sean Connery, in his final performance as 007) jumps into a frantic race to save the world from nuclear terrorists. With Largo (Klaus Maria Brandauer), Blofeld (Max von Sydow) and Fatima (Barbara Carrera) bent on destroying the world, Bond is never far from death in director Irvin Kershner's Golden Globe-nominated action flick.

Action, Adventure, Spy, Thriller
27










Connery is looking a bit old in this unfortunate remake of
Thunderball
. It's paced better than the original but the cast and the outfits make it seem more like a spoof.