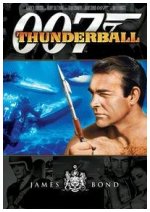 Terrorist mastermind Emilio Largo hijacks two nuclear weapons and has his sights set on a blackmail payday of global proportions -- unless James Bond (Sean Connery) can stop him! Thunderball gets the Special Edition treatment with commentary by director Terence Young and two making-of featurettes. An action classic that'll move and thrill you, Thunderball is one of the best of the franchise.

Action, Classic, Spy, Thriller
27










One of the slowest Bond films, with an ending that seems more like an underwater western.