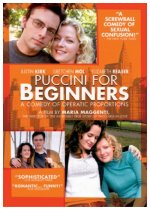 Puccini for Beginners
2006










In this love-crazed comedy, commitment-phobic lesbian Allegra (Elizabeth Reaser) is recovering from a breakup with her girlfriend when she starts to fall for a member of the opposite sex -- and now she's questioning her sexuality and her sanity. Philip (Justin Kirk) is the tidy professor who's romancing the ambivalent Allegra while she pursues Grace (Gretchen Mol), a straight woman who's recently become single.
Comedy, GLBT, Indie, Romance
27










Amusing, with a hint of romance. Reminds me a bit of
Notting Hill
. The acting and script are both good, the movie has a nice flow.