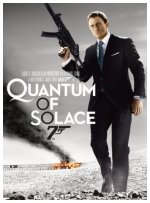 Picking up an hour after the events of 2006's Casino Royale, this James Bond adventure finds 007 (Daniel Craig) tracking a traitor who's infiltrated Britain's MI6. The trail leads to Dominic Greene (Mathieu Amalric), the charismatic head of a world environmental agency. But behind this seemingly legitimate facade, Greene runs Quantum, a powerful terrorist organization whose plot to overthrow a Bolivian dictator masks an even more sinister scheme.

Action, Adventure, Spy, Thriller
27










Again an exceptionally silly plot premise, but still slightly better than
Casino Royale
- Olga Kurylenko was a nice addition to the cast.