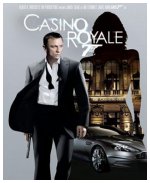 Martin Campbell (GoldenEye) directs the 21st film adaptation of the 007 franchise, which marks Daniel Craig's debut as James Bond and plays him against a corrupt financier (Mads Mikkelsen) in a showdown of Texas Hold 'Em. Eva Green stars as Vesper Lynd, and the sublime Judi Dench reprises her role as M. Because the action is based on Ian Fleming's first novel, you'll also learn critical facts about Bond's back story.

Action, Adventure, Drama, Spy, Thriller
27










Daniel Craig is on par with Dalton, but not nearly as good as Connery, Moore, or Brosnan. A decent movie but it doesn't feel like a Bond film with an angsty alcoholic-fueled performance and poker instead of baccarat

11










Entertaining, it's worth the time to watch it.