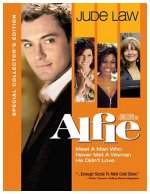 Jude Law reprises a role made famous by Michael Caine (who got an Oscar nod for his portrayal in the 1966 film of the same name) in Charles Shyer's stylish remake, which takes a decidedly different tone than the original. Self-aware British cad Alfie (Law) falls in lust too easily and can't commit to one woman in all of Manhattan. But when one of his lovers gets pregnant, Alfie begins to question his existence.
Comedy, Drama, Romance
27










Smooth cast and story, excellent. I have a hard time finding fault with Jude Law - I never think of him as an exceptional actor, but he seems to fit well into his roles in a very laid back way.