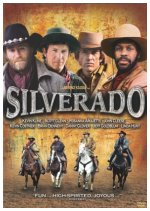 Two brothers, ex-prisoner Emmett (Scott Glenn) and current prisoner Jake (Kevin Costner), team up with a butcher named Mal (Danny Glover) and Paden (Kevin Kline), a man left to die in the desert by outlaws, to take on the crooked sheriff (Brian Dennehy) of Silverado. Their families, who all live in the New Mexico town, depend on their heroics. Jeff Goldblum co-stars in director Lawrence Kasdan's classic Western with an Oscar-nominated score.
Action, Adventure, Comedy, Western
27










A great western with people who actually hit what they're shooting at - a refreshing change from modern action movies. Kevin Costner is excellent comic relief as the hyper sidekick.