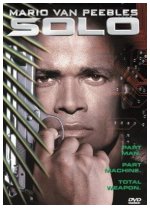 The Pentagon designed robot soldier Solo (Mario Van Peebles) to carry out the government's most dangerous and top-secret operations throughout the world. Solo, however, has been programmed to think for himself -- which leads to his unwillingness to kill innocent bystanders. After ruining a covert operation, Solo finds himself on the run from his makers. When he comes to a village of oppressed peasants, he uses his special skills to help them.
Action, Adventure, Fantasy, Sci-Fi, Thriller
27










The story is decent and the acting is sub-par, but the entire film comes off as a tall tale about 'the one that got away'.