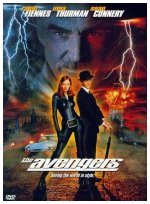 This much-maligned, big-budget blockbuster adapted a 1960s TV favorite for the '90s big screen. Ralph Fiennes stars as classy British secret agent John Steed and Uma Thurman as his girl Friday -- the brilliant, beautiful scientist Emma Peel. Their impossible mission: thwart Sean Connery's diabolical plan to bring the world to its knees by controlling global weather.
Action, Adventure, Spy, Thriller
27










This feels more like a lightweight Bond film, it doesn't hold a candle to
The Avengers
with Diana Rigg. The opening scene is just silly, and Mother/Father don't feel right, not to mention a good bit of awkward romance.