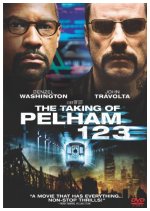 The Taking of Pelham 123
2009










When a group of hijackers led by criminal mastermind Ryder (John Travolta) take the passengers aboard a New York subway train hostage and demand a king's ransom, it's up to subway dispatcher Walter Garber (Denzel Washington) to bring them down. Directed by Tony Scott (Man on Fire), this action thriller -- an update of the 1974 film from Joseph Sargent -- also stars James Gandolfini, John Turturro, Luis Guzmán and Michael Rispoli.
Action, Adventure, Thriller

11










Good movie, a little bit dark, but great acting combo with Denzel Washington and John Travolta.
27










Solid, but not spetacular. John Travolta is generally a pretty good bad guy - but there is nothing special about this film to set it apart from other action movies. I think
Swordfish
is a better choice for a Travolta villain movie.