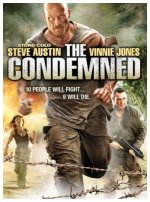 While waiting out a death sentence in an infamous Central American prison, hard-boiled convict Jack Conrad (retired professional wrestler "Stone Cold" Steve Austin) is surprised to learn he's been bought by a reality show mogul who wants to cast him in his latest project. His assignment? To join nine other convicted murderers on the shores of a deserted island, where they'll fight to the death for the title of sole survivor.
Action, Adventure, Thriller
27










A reasonably good violent action flick. There's enough of a plot to keep the movie going, and the acting is passable but not good.

11










A decent action movie, packed with action for sure. Steve Austin does a really fine job playing his part.