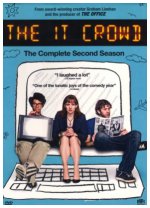 Enter the glamorous offices of Reynholm Industries, then take the elevator to the basement, where you'll find the decidedly unglamorous IT support team: slacker Roy (Chris O'Dowd), social misfit Moss (Richard Ayoade) and technically ignorant supervisor Jen (Katherine Parkinson). Together, they find nerd-tastic adventures in this hilarious British sitcom from the producer of "The Office." The program won a 2008 International Emmy for Best Comedy.
Comedy, TV

10










Though it borders on slapstick at times, this series is well worth the look if you're a fan of situational british comedy. Unlike its US counterparts, this show knows you're already in on the joke and doesn't patronize its audience.

10










This wasn't bad, but the humor is just over the top silly. As a real life nerd, I would have enjoyed the concept much more if the characters were portrayed a bit more realistically.