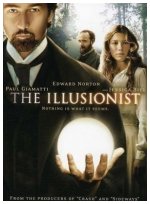 With his eye on a lovely aristocrat (Jessica Biel), a gifted illusionist named Eisenheim (Edward Norton) uses his powers to win her away from her betrothed, a crowned prince (Rufus Sewell). But Eisenheim's scheme creates tumult within the monarchy and ignites the suspicion of a dogged inspector (Paul Giamatti). Set in early 1900s Vienna, this lush period drama from writer-director Neil Burger earned an Oscar nod for Best Cinematography.
Drama, Indie, Romance
27










Filmed well, but Edward Norton felt like the only really charismatic actor in the cast - Jessica Biel in particular seemed weak. The plot was rather slow and subdued, making
The Prestige
a much more enjoyable and interesting film choice.

9










Pretty good movie. Came out the same time as
The Prestige
and is also about magicians, but was more low budget. Also had a surprise ending, but the way they showed it to you was so fast and dull; I nearly missed the explanations.