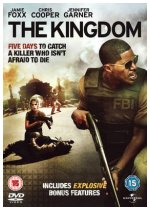 An FBI squad led by Ronald Fleury (Jamie Foxx) travels to Riyadh, Saudi Arabia, to probe a deadly al-Qaida terrorist bombing targeting Americans, but local government bureaucracy and the possibility of another attack threaten the investigators' work. No one is to be trusted in this action thriller co-starring Jennifer Garner as forensics specialist Janet Mayes and Chris Cooper as bomb expert Grant Sykes.
Action, Adventure, War

11










Good movie that is heavy on action, with a tiny bit of suspense as well. Acting was good.