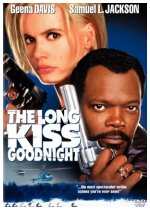 The Long Kiss Goodnight
1996










Samantha Caine (Geena Davis) can't remember anything before the day she woke up eight years ago, injured and two months pregnant. Now a schoolteacher with only vague memories of the past, she starts to exhibit bizarre, violent impulses. It's only after hiring two-bit private detective Mitch Hennessey (Samuel L. Jackson) that she discovers that she was once a top CIA assassin named Charley -- and that her old boss has kept tabs on her.
Action, Adventure
27










Samuel L. Jackson has some hilarious monologues in this film, but there is also some terrible acting and dialog as well. If you enjoy B-movies it's well worth a watch though. The plot is fairly generic and Geena Davis is completely inconsistent.

10










with these 2 powerhouse actors you would figure you're in for a good ride. but it was cheesy.