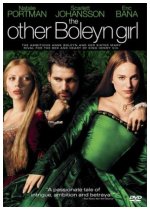 The Other Boleyn Girl
2008










Director Justin Chadwick's opulent historical drama stars Natalie Portman as Anne Boleyn and Scarlett Johansson as her sister, Mary -- both beautiful, ambitious and vying for the heart of powerful but intemperate King Henry VIII (Eric Bana). Though both women are the monarch's mistresses, only one can become his queen consort -- but at what cost? The supporting cast includes Kristin Scott Thomas and Jim Sturgess.
Book, Drama, Foreign, Romance
27










Natalie Portman went from extremes in precociousness in the beginning to a sniveling mess at the end. Scarlett Johansson spent most of the film moping around rather unemotionally. Kristin Scott Thomas was the only one who lived up to her role.