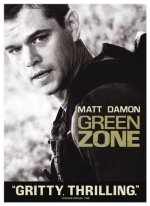 U.S. Defense Intelligence Agent Clark Poundstone (Greg Kinnear) doesn't want to hear what Army Chief Warrant Officer Roy Miller (Matt Damon) has to say about not finding the weapons of mass destruction -- evidence that could launch a war -- he's been sent to Iraq to unearth. Why the cover-up? Rajiv Chandrasekaran's exposé Imperial Life in the Emerald City: Inside Iraq's Green Zone inspired this frenetic wartime drama. Paul Greengrass directs.
Action, Adventure, Drama, Thriller, War
27










A decent suspenseful historical fiction flick about the Iraq war. The flow is decent and the plot keeps things interesting - and all the characters are passable. Definitely a military film though - don't expect
The Bourne Identity
type action.

11










This movie was AWESOME !!! Lots of action and great acting ! It was similar to the Bourne movies with Matt Damon but had a different plot. A MUST see !