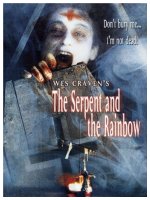 The Serpent and the Rainbow
1988










Purveyor of horror Wes Craven directs this creepy Caribbean tale based on the best-selling book by Wade Davis. Harvard anthropologist Dennis Alan (Bill Pullman) is sent to Haiti in search of a mysterious voodoo powder that turns the living into semi-conscious zombies. He enlists the help of a female doctor (Cathy Tyson), but their scientific smarts are hardly a match for the black magic they're up against.
Drama, Horror, Indie, Thriller
27










Not realistic by any means, voodoo wise, but a trippy and rather entertaining journey.

14










Horror master Wes Craven delivers an entertaining, albeit slightly hokey, take on voodoo zombies. Its never particularly scary but the exploration of the religion and its permeation with Christianity through Haiti is worth a watch.