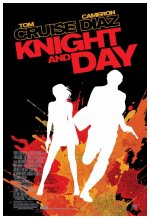 Perpetually unlucky in love, June (Cameron Diaz) becomes intrigued by a mysterious man (Tom Cruise), who unexpectedly drags her into a whirlwind adventure involving devious enemies, life-threatening confrontations and a major discovery that may alter the future of humankind. Directed by James Mangold, this exhilarating action-comedy also features Peter Sarsgaard, Paul Dano, Maggie Grace and Viola Davis.
Action, Adventure, Comedy, Spy
27










As much as I don't like Tom Cruise this was a pretty solid action comedy. Cameron Diaz managed to pull off decent chemistry with him, and the flow of the film kept things entertaining throughout.

15










Not a big fan of either Diaz or Cruise, but this worked brilliantly. Diaz was perfect. Tongue in cheek secret agent adventure. Loved it!