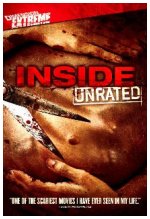 Four months after her husband's tragic death, Sarah (Alysson Paradis) prepares to head to the hospital to deliver her miracle baby. But what should be a blessed Christmas Eve event turns terrifying when a crazed woman (Béatrice Dalle) arrives at her home intent on taking Sarah's baby. Taking up whatever sharp implement at hand, the psychotic woman relentlessly pursues the pregnant Sarah, determined to perform a grisly brand of C-section.
Foreign, Horror, Thriller
8










Agreed with seven. One of the few films to make me cringe. A treat for gore-fans.

10










This is a French film which I had doubts on watching. But I'm glad I did. This movie breaks the cliche that only men can be violent. This movies shows the rage a woman can display when she really wants something.