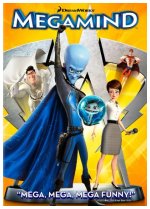 When a cunning supervillain (voiced by Will Ferrell) accidently kills his crime-fighting nemesis, the rogue suddenly finds life boring and uninspired. So, he creates a new enemy (Jonah Hill) who seeks to destroy the world, forcing Megamind to play the hero role for once in his life. This hilarious 3D animated feature from director Tom McGrath (Madagascar) also features the voices of Brad Pitt and Tina Fey.
Animation, Children, Superhero

15










Just saw this for the 2nd time and loved it just as much. Well-developed elements of human emotion draw you to the animated characters as though they're real people. Very clever script.
27










A decently entertaining superhero animated film that lightly pokes fun at the normal superhero genre. It had a good sense of humor and didn't come off as cliche