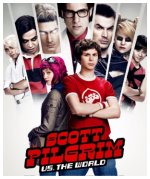 Scott Pilgrim vs. The World
2010










When dreamy delivery girl Ramona (Mary Elizabeth Winstead) starts popping up in his life, slacker musician Scott (Michael Cera) takes notice. But to secure a date with this rollerblading goddess, Scott must first vanquish all seven of her evil ex-boyfriends in martial arts battles. Based on Bryan Lee O'Malley's graphic novels, director Edgar Wright's action-packed romcom also stars Anna Kendrick, Brandon Routh and Chris Evans.
Action, Adventure, Comedy, Martial Arts, Superhero

16










Really good, captured the spirit of the comics in every little moment. Not quite as good as the books, but still a great adaptation with its own little gems.
27










This movie felt appropriately surreal. Michael Cera delivered a decent performance, and Mary Elizabeth Winstead made detached apathy seem charming. Unfortunately, the ending seemed too sweet and common - didn't fit with the rest of the film.