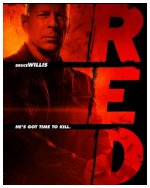 After trading in his professional past as a black-ops CIA agent for a new identity, Frank Moses (Bruce Willis) is basking in normalcy. But he's forced to return to old habits when a shadowy assassin puts a target on his back and goes after the woman (Mary-Louise Parker) he loves. Morgan Freeman, Helen Mirren and John Malkovich co-star as former members of Moses's team who reluctantly reassemble to save his life.
Action, Adventure, Thriller

15










Good espionage fun, even if the plot was predictable. With such a great cast, how can you go wrong?
27










The trailers for this looked like a mess, but it was actually a lot of fun. All the stars played well together, and Mary-Louise Parker was hilarious. The story had a pretty good flow, and plenty of action to keep things interesting.