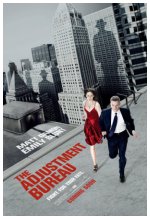 The Adjustment Bureau
2011










A congressman (Matt Damon) who's a rising star on the political scene finds himself entranced by a beautiful ballerina (Emily Blunt), but mysterious circumstances ensure that their love affair is predestined to be a non-starter. Screenwriter George Nolfi (The Bourne Ultimatum) makes his directorial debut with this romantic adaptation of Philip K. Dick's classic sci-fi short story "Adjustment Team."
Drama, Fantasy, Sci-Fi

15










The premise was a little awkward at first, but more believable as the film went on. Chemistry between Damon and Blunt seemed untrue to me, but liked both actors despite that. Enjoyed humor between Damon and the Bureau men.
27










Delightfully funny in parts - Matt Damon and Emily Blunt have great chemistry. I'm on the fence about the ending - it wasn't great but not disappointing either. Some people may be a little put off by the religious overtones to the story.