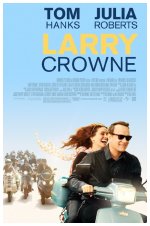 After being laid off from his longtime job at a soulless retail giant, average middle-aged guy Larry Crowne (Tom Hanks) decides it's time to change up his life, so he heads back to college. There, he finds a new perspective -- and a new romance with a professor (Julia Roberts). Hanks directs this comedy-drama from a script co-written by Hanks and Nia Vardalos. Bryan Cranston, Pam Grier, Taraji P. Henson, Cedric the Entertainer and Vardalos co-star.
27










Tom Hanks is annoyingly cheerful at the start, but after that he's okay. Julia Roberts is good for the first half of the film - but Gugu Mbatha-Raw is the comic heart of the movie. The middle falls apart a bit, but it mostly recovers by the end.

15










A good movie, especially geared toward the older set. Not a lot of action, but Tom Hanks delivers. Not a Roberts fan, but enjoyed the simple story despite that.