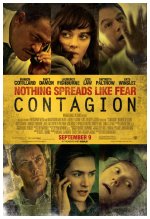 Steven Soderbergh steers big stars through this big-screen disaster-thriller about a global team of doctors tasked with tamping down a deadly outbreak of infectious disease before it annihilates mankind.
Action, Adventure, Disaster, Fantasy, Sci-Fi, Thriller

10










The acting was on par, so was the story line, but i hoped for a better ending.
27










This tries to be a thriller, but the opening is jumbled until Kate Winslet shows up about 15 minutes into the film. After that it's just slow and not very compelling.