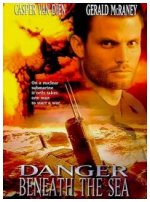 Danger Beneath the Sea
2001










When an American submarine loses its communication system, sailors revolt and imprison their commander, Sheffield (Casper Van Dien). With his men preparing to fire missiles at Russia and another sub ready to destroy his, Sheffield looks for a way to regain control. Full of thrilling action sequences and suspense, this military drama co-stars Gerald McRaney, Stewart Bick, Tammy Isbell, Vince Corazza and Paul Essiembre.
Action, Adventure, TV, Thriller, War
27










Felt like a made for TV version of
Crimson Tide
, with a little
Gray Lady Down
mixed in. The acting was very weak, with a bit of unrealistic nuclear dust to top it all off.