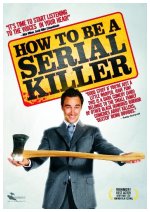 How to Be a Serial Killer
2008










Meet Mike Wilson (Dameon Clarke). He's charming. He's smart. He's a serial killer -- and a very happy one, too. Determined to share the secrets of his satisfying career, Mike enlists sad-sack video store clerk Bart (Matthew Gray Gubler) as his star pupil. Mike enlightens Bart on the finer points of body disposal and other tricks of the trade, but it's not long before Mike's girlfriend catches on to his very odd job in this hilarious dark comedy.
Comedy, Horror, Indie
27










Kind of funny, but also a fairly bad movie. Amusing that Matthew Gubler from
Criminal Minds
was in this.