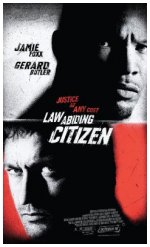 Traumatized by the atrocious murders of his wife and daughter -- and the flawed justice system that set the killers free -- Clyde Shelton (Gerard Butler) gives in to his rage and sets out on a course of vengeance. He soon takes on not only the prosecutor involved in the case, Nick Rice (Jamie Foxx), but also the city of Philadelphia. Director F. Gary Gray's bold crime thriller co-stars Viola Davis and Michael Gambon.
Thriller

9










I really enjoyed this movie. However, it makes you want to cheer for the "bad guy" so the ending is a letdown. Great action thriller though, definitely worth seeing at least once. Gerard Butler is excellent.

10










Such wonderful start, giving promise to a real thriller and a good film. 50 min into the film it takes a nosedive as it misunderstands its audience and fades away into nothingness. Sad really!
27










A good action packed movie, somewhat ruined by a poetic and preachy ending. Not sure why they decided everything needed to end in a pleasant little package.