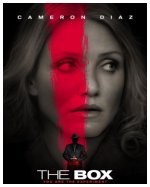 A disfigured NASA employee named Arlington Steward (Frank Langella) informs Norma (Cameron Diaz) and Arthur (James Marsden) Lewis that they have 24 hours to decide if they want to push a button inside a box that will give them a cool million -- but a complete stranger will die at the same time. Richard Kelly (Donnie Darko) writes and directs this thriller based on sci-fi writer Richard Matheson's short story.
Supernatural, Thriller

10










the lesson learned about how humans are greedy, and its their ultimate downfall was ok, but the film was all over the place. some of the characters were annoying, camerons performance was C-
27










Kept waiting for something interesting to happen, but nothing ever did.