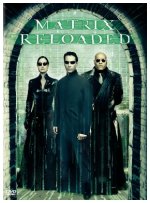 The Matrix: Reloaded
2003










After Zion -- the last outpost still under human control -- is discovered, the battle against the machines that have enslaved people in the Matrix reaches its peak, and Neo, Morpheus, Trinity and the rest of the gang must soldier on. Keanu Reeves, Laurence Fishburne and Carrie-Anne Moss reprise the roles they made famous in the special-effects spectacle The Matrix, with Hugo Weaving popping up again as Neo's indefatigable cyberfoe.

Action, Fantasy, Sci-Fi, Thriller

16










Incoherent story, special effects far worse than the original, no real reason to watch this at all.
27










Matrix 2 & 3 stomped all over the nuanced story that was
Matrix
. A travesty, and it would be best just to watch the first in the series and forgo the sequels.