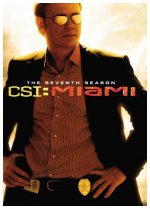 David Caruso, as the methodical and faultlessly logical crime scene investigator Horatio Caine, keeps his staff focused on solving some tough crimes in this hit television drama series that's a distinct departure from most cop/crime shows. The accent is on the science here, with brainwork often triumphing over legwork. This collection includes all 25 Season 1 episodes.

Drama, Mystery, TV

7










this is my favorite kind of csi, very good show:)

8










Only rates the last half star because of the colors - the cinematography is somethin' else. Otherwise, formulaic and kind of stiff feeling.

11










Half a point for suspense in waiting for Horatio's one liners, as well as in which method he will put on his iconic sunglasses. Otherwise, decent show. Original CSI is better.
27










Passable cop show, quite a few decent actors and a few that don't fit in well (Adam Rodriguez in particular).