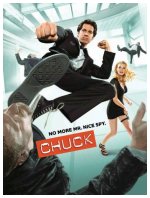 Chuck (Zachary Levi) was a computer nerd working at an electronics store until he opened the wrong email and downloaded subliminal government information into his mind. Now, this ordinary guy is running from assassins, spies and terrorists out to pick his brain. With the help of crack CIA operative Sarah Walker (Yvonne Strahovski) and a protector from the National Security Agency (Adam Baldwin), Chuck dodges bullets and international intrigue.
Action, Adventure, Comedy, TV
27










Yvonne Strahovski is gorgeous yet amusing and Adam Baldwin is hilarious - best character on the show. Chuck's incompetence can be annoying at times, but overall the show is good.

15










Scripts have definitely improved since the show started--relationships are better and humor hits the mark more often. Not deep drama, but enough good writing that you don't feel like you wasted an hour.

9










Great laughs in a nerdy james bond kind of way. It has a few moments where u want to see what else is on the tv