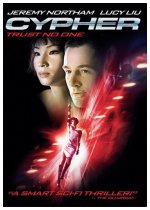 Bored with his suburban life, Morgan (Jeremy Northam) enters the world of corporate espionage, spying on rival corporations for Digicorp. It's all very exciting until he realizes he's being used as a pawn in the war between Digicorp and rival Sunways. Lucy Liu co-stars as a femme fatale who might be able to help him get out of the situation alive in this tense drama, which won the Grand Jury Prize for Fantasy at the 2003 Fantasporo Film Festival.
Sci-Fi, Spy, Thriller
27










A decent thriller that keeps you guessing till the end. Not ground-breakingly exciting, but still a decent flick. I'm not sure if Jeremy Northam was exactly right for the role, but he did a decent job.