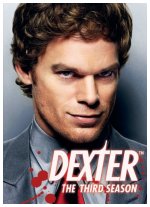 Playing a sympathetic serial killer might sound like a stretch, but former "Six Feet Under" star Michael C. Hall pulls it off in this macabre drama about a likable forensics expert who channels his violent tendencies into knocking off miscreants. Dexter Morgan (Hall) seems so harmless, in fact, that neither his girlfriend (Julie Benz) nor his cop sister (Jennifer Carpenter) suspect the true nature of his extracurricular activities.
Drama, Mystery, TV

11










One of the most brilliant things ever written.
27










It's understandable that Michael Hall plays the role of a serial killer so cold and disconnected, but it also doesn't make it very interesting to watch.