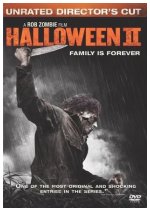 After Michael Myers's (Tyler Mane) horrific Halloween night rampage in Haddonfield, the townspeople try to recover -- but the nightmare isn't over in Rob Zombie's bloody sequel to his reimagining of the original Halloween horror flick. Malcolm McDowell reprises his role as Dr. Sam Loomis, and Scout Taylor-Compton returns as Myers's sister, Laurie Strode. Brad Dourif, Danielle Harris and Bill Moseley co-star.

Horror

10










Years are going by and the story repeats itself over and over again. LAME!

10










Excellent slasher movie. I found myself less than satisfied with was some of the dialogue used. Excessive profanity reminded me the dialog was scripted. Beyond that, the important actors had an authenticity I miss in most movies.