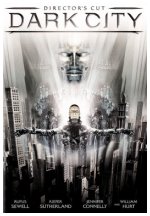 John Murdoch (Rufus Sewell) awakens in a hotel room to find he's wanted for a series of murders he doesn't remember committing. But then he encounters the Strangers, a group of ominous beings with a collective memory who can stop time and alter physical reality. John frantically begins repairing his memories -- including his love for his wife (Jennifer Connelly) -- all the while trying to avoid the Strangers's ominous underworld.
Fantasy, Mystery, Sci-Fi, Thriller

16










A very stylish and well-thought-out sci-fi/noir movie. It's kind of like a full-length Twilight Zone episode, but less wacky. You could compare it to The Matrix or Inception, but you're better off just watching it on its own merits.
27










This film has some similarities to The Matrix, but really belongs in a category all its own.