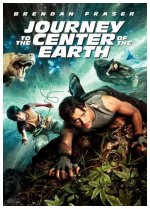 Journey to the Center of the Earth
2008










In this direct-to-video remake, when an accident leaves a group of researchers trapped beneath the earth's crust, it's up to a drill team, led by Joseph Harnet (Greg Evigan), to rescue them. But once underground, the team discovers a mysterious -- and horrifying -- subterranean universe. Giant spiders and treacherous dinosaurs abound in this pulse-pounding update of Jules Verne's classic sci-fi adventure, which also stars Dedee Pfeiffer.
Action, Adventure, Fantasy, Sci-Fi
27










The acting is pretty bad, but if you think of this as a kids movie it succeeds in being fairly entertaining. The title is a bit misleading though - it's based in Jules Verne's world but it isn't a retelling of his book.