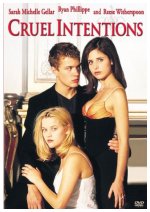 Slaking a thirst for dangerous games, Kathryn (Sarah Michelle Gellar) challenges her stepbrother, Sebastian (Ryan Phillippe), to deflower their headmaster's daughter (Reese Witherspoon) before the summer ends. The prize, if he succeeds, is the chance to bed Kathryn. But if he loses, Kathryn will claim his most prized possession. Sebastian takes up the dare but soon learns there's more to the bargain than meets the eye.

Comedy, Drama, GLBT, Romance

10










A modern adaptation of Les Liaisons dangereuses, this film became one of the defining teen movies of the 90's and early 2000's. Though imperfect, it is a legitimately dark film worthy of a watch.
No comments found, be the first!
27










The plot was intricate and mischievous, with colorful characters. Good movies about spoiled rich kids are hard to find, and this one was fantastic. The story culminates in a perfect ending - really a hard movie to find fault with.