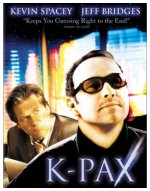 Kevin Spacey stars as Prot, an extraterrestrial from the planet K-PAX (or so he'd have us believe), in this science-fiction drama that casts Jeff Bridges as a psychiatrist who doubts Prot's otherworldly origins. But the doctor begins to question his own instincts when his unusual patient begins talking to dogs -- and understanding them -- and pulling off other artful tricks that can't be easily explained.
Drama, Fantasy, Sci-Fi

10










A showcase of Kevin Spacey's and Jeff Bridges' talents in some intriguing characters. Great sort of mystery/scifi film that leaves you wondering, and almost wishing. Complimented very nicely by Edward Shearmur's best musical score.
27










Not... bad, but very strange, and not particularly good either. The end is slightly ambiguous too, which doesn't help.