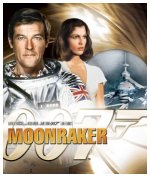 Agent 007 (Roger Moore) blasts into orbit in this action-packed adventure that takes him to Venice, Rio de Janeiro … and outer space! When Bond investigates the hijacking of an American space shuttle, he and beautiful CIA agent Holly Goodhead (Lois Chiles) are soon locked in a life-or-death struggle against Hugo Drax (Michel Lonsdale), a power-mad industrialist whose horrific scheme may destroy all human life on Earth.

Action, Adventure, Spy, Thriller
27










Unfortunately, invincible Jaws from
The Spy Who Loved Me
is back and more ridiculous than ever. The space battle is also laughable and reminiscent of the ocean fight in
Thunderball
.