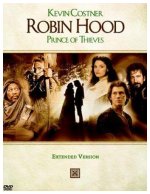 Robin Hood: Prince of Thieves
1991










Kevin Costner stars as Sherwood Forest's outlaw hero in this 1991 version of the classic tale of intrigue, romance and pageantry. When the dastardly Sheriff of Nottingham (Alan Rickman) murders Robin's father, the legendary archer vows vengeance. To accomplish his mission, Robin joins forces with a band of exiled villagers (and comely Maid Marian), and together they battle to end the evil sheriff's reign of terror.
Action, Adventure, Drama, Romance
27










Not horrible, but surprisingly corny acting from decent actors - Kevin Costner and Morgan Freeman. Definitely not the best Robin Hood tale.