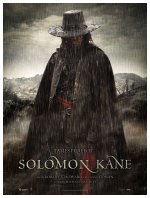 Swords and sorcery make a splashy return to the big screen in this epic tale of a once-murderous sea captain -- Solomon Kane (James Purefoy) -- who's now holed up in a monastery in retreat from the devil, whom he fears is coming for his soul. Kane soon learns, however, that he can't hide forever, and when a horde of powerful thugs invades the landscape, Kane realizes that the path to redemption lies in defending those who are weak.
Adventure, Fantasy, Sci-Fi
27










James Purefoy managed to turn a potentially interesting story into a B movie with his growling tough guy attitude; it was completely disingenuous. The feel of the film reminded me a bit of
Van Helsing
.